The goth-rock trailblazer goes in-depth on his guitar rigs and unusual writing approaches for Bauhaus tracks old and new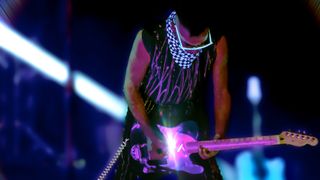 Daniel Ash created a guitar legacy all his own. His mood-shifting, atmospheric playing style, as heard in his early Telecaster-driven work with Bauhaus, served as an obvious influence on subsequent bands including Jane's Addiction, The Smashing Pumpkins, and Soundgarden.
In 2022, he is uniting once more with his Bauhaus bandmates – singer Peter Murphy, bassist David J, and drummer Kevin Haskins – for a world tour and new track, Drink the New Wine.
In addition to Bauhaus – with whom he's played with since 1978, and co-composed such classic tunes as Bela Lugosi's Dead, Dark Entries and Double Dare – he has also played with the likes of Love and Rockets (who scored a global hit with So Alive in 1989), as well as Tones on Tail, the Bubblemen, and Poptone.
Ash spoke with 
Guitar World 
shortly before the launch of the Bauhaus tour to discuss the unorthodox way the band created their latest material, his modern-day guitar setup and what he utilized for the recording of Bauhaus' best-known song, plus a new project in the works…
READ MORE