When the unconventional cat convention, CATSBURY PARK CAT CONVENTION (CPCC) promised it would return bigger and better for its second anniversary, they were not exaggerating. Set for April 13 and 14, 2019 in Asbury Park, NJ, CPCC is proud to unveil its first round of paw-dropping announcements, including feline celebrities, celebrated humans, and impactful organizations. The overwhelming success to its inaugural event this year has propelled a sellout of its discounted Early Bird Tickets which went on sale on November.  General Admission tickets will go on sale Friday, December 14, 2018 at www.catsburyconvention.com which this year will include entry into most Catsbury Park branded panels, discussions, and events. Note that additional tickets will need to be purchased for some special events.
Bringing together an all-star lineup from Cat World: Celebrity Cats, adoptable felines, DJs, games, activities, art, vendors, presentations, seminars, comedians, tattoos, tasty vegetarian food, CPCC will be ushering a much larger weekend event on April 13 and 14, 2019. With more venues to allow more attendees to interact with the cats for adoption, the goal of CPCC is to both find forever homes for our lovely feline friends as well as host seminars about rescue, kitten care, TNR (Trap-Neuter-Return), and more.
Two of the biggest names in the Cat World with headline the convention: Kitten Lady a.k.a. Hannah Shaw and Lil Bub on Saturday, April 13th and Sunday, April 14th respectively.
SATURDAY, APRIL 13th HEADLINER: 

Kitten Lady: Hannah Shaw a.k.a. "Kitten Lady" is an award-winning animal advocate, humane educator, and professional kitten rescuer on a mission to change the world for the tiniest felines – orphan kittens.
The Kitten Lady presentation will shine a light on issues impacting young kittens and cats living outside on the streets of our communities. Attendees will hear heartfelt stories of outdoor rescue adventures, learn about the connection between kitten rescue and community cats, and discover the myriad ways cat lovers can get active for the most vulnerable feline populations."  The Kitten Lady will also be a panelist in the Foster and T-N-R panels which will be announced with other guests at a later time.
In addition to delivering the Saturday headline talk, The Kitten Lady will be the guest on Catty Corner Live podcast. Hosted by DJ Values and JakeSzufnarowski, this will mark the first ever live recording of The Catty Corner Podcast for which the three will talk about all things cat and fielding questions from the audience. Entry to this event are included in with general admission tickets.
SUNDAY, APRIL 14th HEADLINER: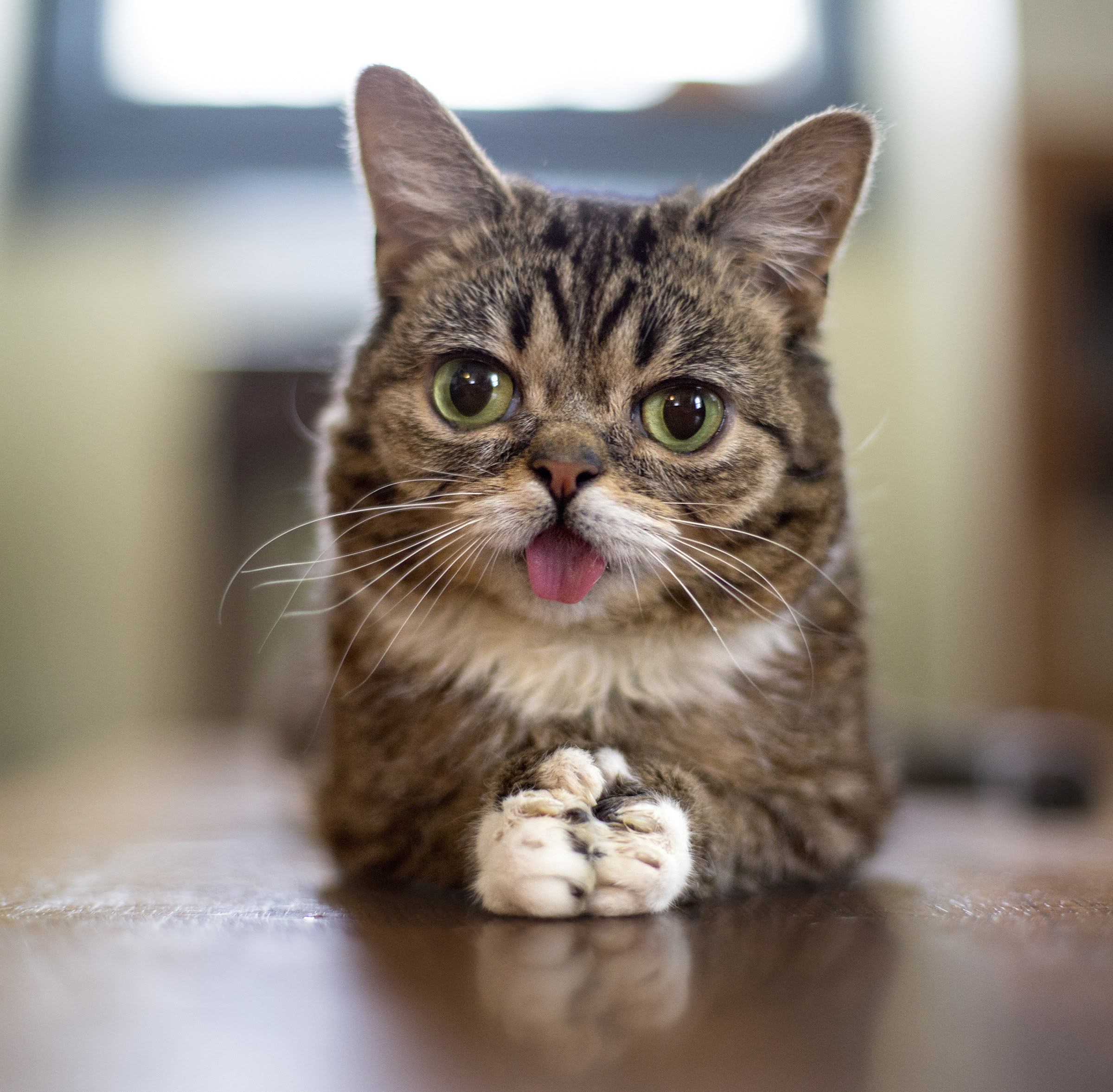 As one of the most famous cats on planet, Lil Bub is a published author, a talk show host, the star of an award-winning documentary, creator of Lil BUB's BIG Fund for the ASPCA, (the first national fund for special needs pets), and has helped raise over $600,000 for animals in need.
In addition to being the Sunday headliner, Lil Bub will be hosting his celebrated talk show Lil Bub's Big SHOW and will present a rare live event featuring some VERY special surprise guests. Among guests who have been guests on the show include Michelle Obama, Whoopi Goldberg, Ryan Adams,  and Andrew W.K. It's been almost three years since the last live presentation of the Big SHOW, so please don't miss it. Tickets to this event will go on sale on December 14th.  The special Lil Bub Big Club Meet & Greet Package will include entry to this event and entry to the Saturday, April 13th Meet & Greet for a photo with Lil Bub, exclusive merch, etc. goes on sale December 14th at 9am.
Celebrity guests will be announced in 2019.
Among the other  feline celebrities making their presence known by knocking things off the table:
Klaus (Klaus, or "The Klaus" as he is known online) The 18-year-old elder statesman of internet cats, he was adopted from a no-kill shelter in 2006 and his frequent appearances in photos and videos as Oskar the Blind Cat's sidekick led to a global fan base. Klaus will be joined by his cat dad, Mick Szydlowski, who diligently transcribed (and possibly enhanced) the real-life adventures of Oskar & Klaus in a series of illustrated children's books which are used in classrooms, children's hospitals, and are even read by astronauts in space.

Proceeds for Klaus' Meet & Greet package will go to The Oskar & Klaus Foundation to be used for their school curriculum project with CASIS (Center for Advancement of Science in Space) which is working towards presenting a curriculum across the country in 2019 with hopes of encouraging blind and visually impaired kids to pursue science careers.
Tickets: $50 on sale 12/14 at 9am

Stache: This Oriental Shorthair with a full moustache resembles a number of Hollywood's leading men. Stache resides in Monmouth County, NJ with his other social media famous feline brothers, Teddy, Dexter and Bindi who are collectively known as the dobbikats and can be found on their popular at Instagram page @hobbikats.

Join Stache for a very rare appearance, last year his friends Teddy & Dexters  Meet and Greet sold out in record time, so please don't hesitate or you may miss out.
Tickets: $50 on sale 12/14 at 9am. 

Sir Thomas Trueheart:  Rescued by Milo's Sanctuary, Inc. after being horribly abused and having acid poured on his face,  he spent weeks in the hospital recovering and underwent two skin grafts where it was discovered that he is also FIV positive. Tommy has become a spokescat for abused, lost, injured animals.

100% of all funds raised by Sir Thomas Trueheart's FIRST East Coast Meet and Greet will go to the continued care of the special needs cats rescued by Milo's Sanctuary, Inc and to Catsbury Park to continue their mission of rescue and adoption.  Sir Thomas will have an exclusive gift for each ticket buyer.
Tickets: $25 on sale 12/14 at 9am 
In addition to cats, other feline-affiliated human celebrities and organizations announced include:
Just a short stroll from the Convention Center and the historic Asbury Park Boardwalk, The Asbury Hotel has partnered with CPCC, offering discounted rates for the weekend of the convention for registered attendees.
April 2018's two-day event drew over 5,000 attendees from all over the country and raised over $40,000 that was donated to Catsbury Park, The Brodie Fund, Humane Society Tinton Falls, Jersey Shore Animal Foundation, Camden County Shelter, Paul the Cat Guy, North Shore Animal League and Asbury Park Boardwalk Cats.  "We were completely overwhelmed by last year's success," says DJ Bornschein, founder of Catsbury Park. "It was always our goal to bring a fun, entertaining and educational event to the community of cat lovers that have always supported Catsbury Park, but last year exceeded our expectations."
The Catsbury Park Cat Convention is proudly hosted and organised by Catsbury Park, a 501(c)3 non-profit rescue based in Asbury Park and is honored to be partnered with The Brodie Fund, Milo's Sanctuary, Jersey Shore Animal Foundation, and the Associated Humane Society of Tinton Falls as our chosen beneficiaries in 2019. As with the 2018 event, 100% of the profits will be donated to Catsbury Park and our partner charities